DM-U108 8A UBEC 5V/6v/7.4v 8A output 2s-6S/7-25.5V Input Switch Mode UBEC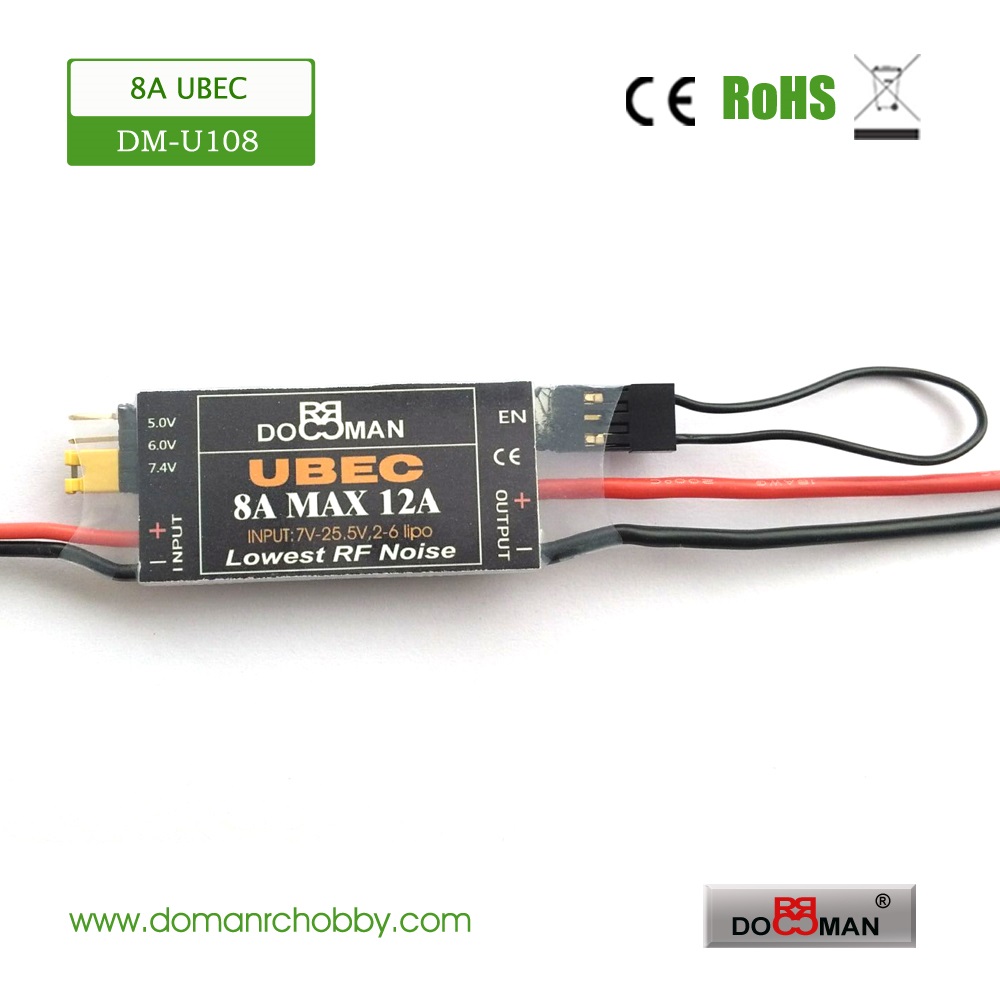 Application:
UBEC is a external voltage stabilizing device, it works in switch supply mode and it used for high current or high voltage hobby equipment, it could supply power to the receiver, gyro, HV servo,high torque servo, platforms, image transmission, FPV and so on.
Specifications
1.1 Output:5V/8A ,6V/8A or 7.4V/8A (Changeable with an jumper);
1.2 Input:7-25.5V (2 to 6 cells Lipo battery pack, 6 to 16 cells NIMH battery pack);Input voltage must higher than output voltage
1.3 Continuous output current:8A;
1.4 Burst output current:12A (≤15 Sec);
1.5 Ripple:<35mVp-p(@8A/12V);
1.6 Size:45mm*22mm*7.5mm (L*W*H);
1.7 Weight;16g(Including the cable);
Features
2.1 Designed with an advanced switch mode DC-DC regulator IC, the max efficiency of the chip is up to 90%;
2.2 The output current is very large, the continuous output current is up to 8A, and the burst output current is 12A;
2.3 Output voltage enable port: output off when enable jumper plug in, output on when enable jumper plug out
2.4 With ultra-wide input voltage from 7V—25.5V
2.5 Shows the working status with an indicator(LED), lights when the output is in normal range.Or you need check the connection.
Cautions
Although we have tried our best to reduce the electromagnetic interference caused by switch model UBEC, it may still cause some interference to the receiver. So Please put the whole UBEC as far as possible away from the receiver.
How to use the UBEC:

Input / Output port as per the drawing above
Change the output voltage:
jumper(1+2) 5.0V, jumper (2+3) 6.0V, jumper (3+4) 7.4V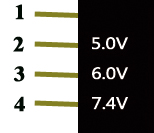 Output voltage enable port"EN": output off when enable jumper plug in, output on
when enable jumper plug out
Caution: Must plug off the sub-jumper when working well, otherwise voltage
output disabled
Packing include :
1pcsXDM-U108 UBEC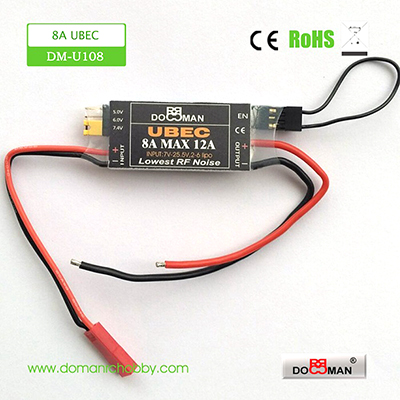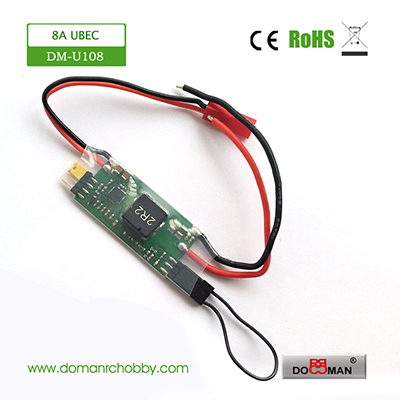 Buy